Sharing and Caring—A Discussion on the Future of Transportation Bluebook on Urban Street Development helps build a modern urban culture
BEIJING, Sept. 22 --Chineseenvironmental protection organisation"GoalBlue (Shenzhen) Low CarbonDevelopment & Promotion Centre", has called for the Chinese society toattach more attention to green commuting, urban street development and thesafety of travelling in cities.
The organisation made the appeal in centralBeijing's Qianmen, one of the Chinese capital's top tourist attractions, at thelaunching ceremony for the forum entitled "A sustainable urban life: theAdvance of People and Retreat of Cars" and the Bluebook for Urban StreetDevelopment on World Car Free Day, which falls on September 22.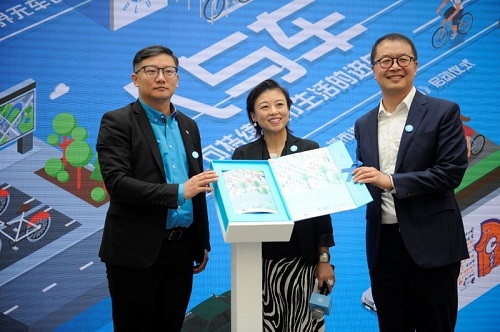 theAdvance of People and Retreat of Cars" and the Bluebook for Urban StreetDevelopment
on World Car Free Day
Attendingthe ceremony were city transportation and construction experts from around theworld including Janette Sadik-Khan, the former director of the New York CityDepartment of Transportation and an advisor on transportation and urban issues,Richard Liu, Regional Director at Institute for Transportation &Development Policy (ITDP) and Liu Daizong, director of China Sustainable CitiesProgram and China Transport Program.
The experts made in-depth discussions abouturban transportation and low-carbon life and shared the key content of the bluebook.
Safety of Urban Travel
Atotal of 198 Chinese cities have promised green commuting since China joinedWorld Car Free Day in 2007, encouraging citizens to leave their cars at homeand travel by foot, bicycle and public transportation as much as possible. Theinitiative proved successful and statistics show that more and more people havepaid attention to the environmental construction and made green commuting theirstyle of life.
It was also announced that the theme of thisyear's World Car Free Day is "safety of green commuting", which warnsthat green commuters, especially the old and the young, are always underconstant security threat because motor vehicles have taken over the city streetsand left little space for pedestrians and cyclists.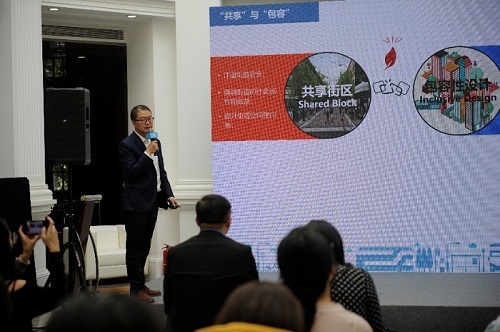 Richard Liu,Regional Director at Institute for Transportation & Development Policy(ITDP)
As a result, the concept of "SharedStreets" was proposed in the blue book, suggesting that pedestrians shouldenjoy priority rights over cyclists and motor vehicle users in the streetsmixed with different kinds of travellers, which could help car drivers to raisemore safety awareness and make the commercial and residential areas safer.
The blue book also provides technicaldetails about how to plan and build a urban transportation system which suiteveryone. Children's safety has been taken into consideration in planning a newstreet and those most successful designs for pedestrians and cyclists from homeand abroad are introduced in details in the blue book.
Ease traffic congestionthrough green commuting
According to the "action plan fortraffic congestion alleviation", which was unveiled early this year,Beijing aims to control the number of motor vehicles within 6.1 million in2018, while extending the metro system to over 630 kilometres. The bus networkwill also be optimised and cycling lanes and pedestrian strips be improved andthe green commuting will be raised to 73 percent.
GoalBlue and Institute for Transportation& Development Policy (ITDP) have made thorough investigation and analysisin many cities from China and other parts of the world to help Beijing toimplement the action plan.
Janette Sadik-Khan shared her successfulexperiences of New York's streets renovation project, which has seen TimeSquare and Broadway Street undergo theirlargest transformation since the 20th century. It reclaimed the space occupiedby vehicles to pedestrians and bicycles, and formed a continuous and vibrantpublic space. Sadik-Khan also helped to extend New York's cycle lane to 400miles and renovate 60 pedestrian squares.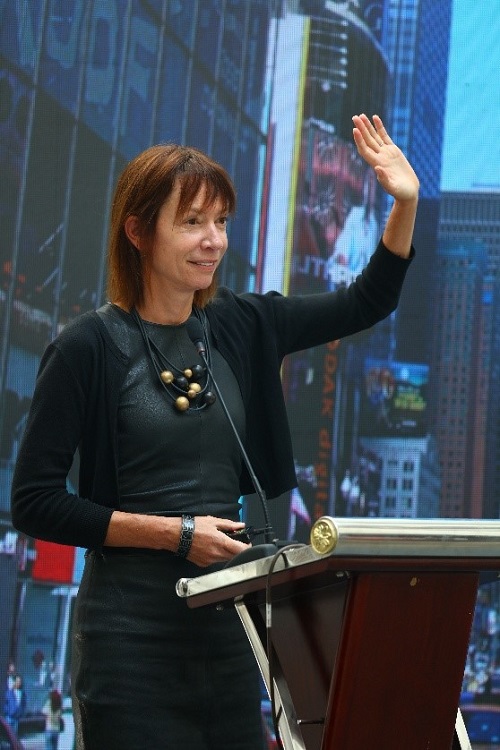 JanetteSadik-Khan,the former director of the New York City Department ofTransportation and an advisor on transportation and urban issues
GoalBlue endeavours to helpconstruct modern cities
World Car Free Day, which was inauguratedin Europe, encourages drivers to give up their cars for a day on September 22to protect the environment and calls the government to develop green commutingnetwork and ask people to use public transport system, bicycles or walk.
The Executive Director of GoalBlue, May Mei,said: "'Green commuting' is not only a way of travelling, but it is also a wayof sustainable life and urban management. GoalBlue endeavours to promote such asustainable and low-carbon lifestyle amongst consumers. In order to achievethis, GoalBlue has been working on a large variety of projects regarding the922 World Car Free Day, as well as building platforms for discussions onsubjects such as urban construction. By releasing bluebooks for advancedconcepts and summaries of discussions, we enable the public to focus andunderstand the topics better."
Theexperts made in-depth discussions about urban transportation and low-carbonlife
Scholarsand experts at the forum suggest that urban and environmental managementrequire further discussions, and advanced concepts and methodology should bethoroughly studied. They hope that the platform provided by GoalBlue forcommunication and discussion will develop and attract more experts from allover the world. Together, "green commuting" and sustainable ways of urbandevelopment can be promoted and achieved.