Variety show meets public welfare, issues a new call for environmental protection
March 13, 2019 - March 20, 2019, Ai Qiyiyouth inspirational variety show "Youth has you" and GoalBlue jointlaunch.
The aim: to call on young people to payattention to the plastic problem and properly deal with daily plastic waste toprotect the environment through public welfare activities. It is reported thatGoalBlue environmental welfare activities are divided into two parts; onlineand offline. Online, involves variety shows and the appeal of public welfareorganizations. Millions of netizens enthusiastically participate in the topicdiscussion, shooting and uploading photos of a drinks bottle being thrown into atrash can, providing opportunities to obtain environmentally friendly bags andtrainees' signatures.
In this activity, "Youth has you"training students also had their own powerful influence, through the micro-blogwhich called on the youth producers "to pick up a water bottle and throw itinto a trash can, but also contributing to environmental welfare."Environmental behavior through offline activities is easy and more direct.Participants can pick up 6 used bottles (plastic bottles/cans can be used) andin the Beijing's Aichi Art "Youth has you" official station depositthese bottles into the environmental recycling machine, which are used to makethe environmental protection bags. These collected bottles will also enter thecorresponding environmental protection factory, to form recycled particleswhich are processed into environmentally friendly fabrics, to produce goods,such as clothing, shopping bags and so on. Once the offline activities wereannounced, they received a positive response from everyone. The event site wasinundated with young people who came with plastic bottles to support publicwelfare, and a long line formed in front of the plastic bottle recyclingmachine. Some live interaction said: "Through this activity, you are doingpublic good whilst chasing the stars, very good!" Others said: "Inever knew that discarded plastic bottles could make so many recycled products,now I know this way is really good and helps me pay more attention toenvironmental protection for later life."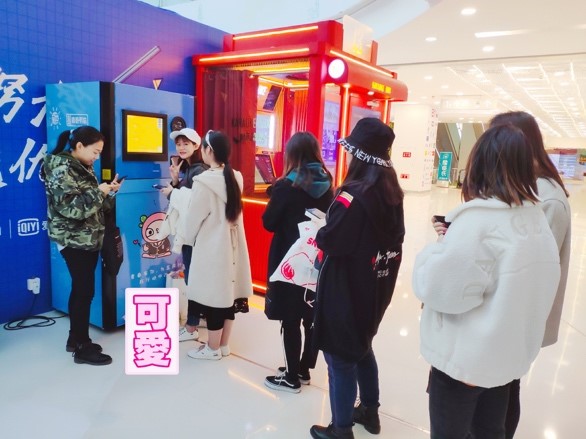 Pictured: Youth Producers Live Online Event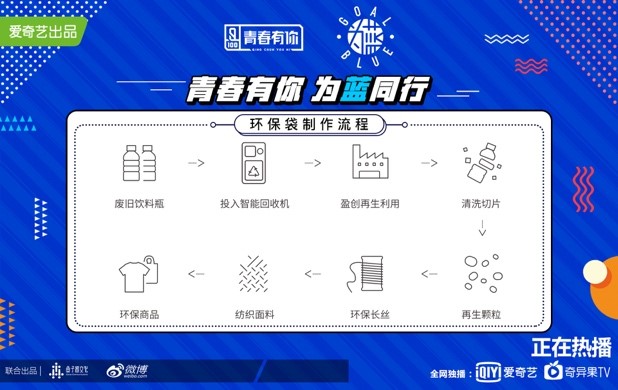 Figure: Introduction to the process ofproducing recycled plastic bottles.
Being able to practice environmentalwelfare together with the trainees is undoubtedly a great encouragement andpositive guidance for the young producers, and at the same time can achieve theestablishment of sustainable consumption thinking, affecting subsequentconsumption behavior. "Today, environmental protection and welfare are notempty concepts, nor are they dogmatic, rigid or preaching, and we need toeffectively use a popular culture to influence and encourage young people"says Son May, head of GoalBlue, a new public interest organization with aninternational background. "Let consumers understand the importance ofenvironmental protection, and then assist them to act." GoalBlue has alwaysbeen committed to influencing young people and their lifestyles in cities, todeliver a low-carbon environmental message and advocate the use of reliable methodsto effectively promote environmental welfare.
It's fun, feasible, and cool to keep theenvironment and protect the planet. Ai Qiyi "Youth has you" is the frontline for the youths inspirational variety show, with "the more efforts,the better" as the theme, aimed at promoting the spirit of hard workthrough the inspirational growth of a new generation of young people, to conveya positive energy within the community. This "youth has you" and "changein action" environmental public welfare activities, is the public welfareindustry and the variety industry successfully cooperating through a wide rangeof online communication and novel offline interaction, to broadcast a positive attitude,seting a good example for many young people to protect the environment.